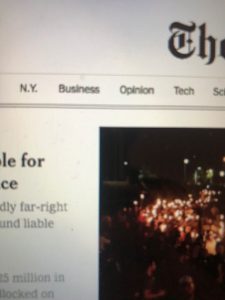 They look at me but they don't see.
They are appreciating my words and the manner I use to express them even when I speak loud or apparently angry because they feel that behind it there is my intuition of their identity above of their sentences.
Yes, I can be direct and genuine, using no special filters because I arrive to their hearts, so words don't offend anyone because the heart understands more than the mind.
I can use many registers, not just empathy or active listening and our time together is not constrained by an emotional balance in which inside a line from -10 to +10, only -3 to +3 is acceptable, therefore expressible, the rest is rejected because too hard.
At the end they are thankful because few people or nobody in the past understood and spoke to them with this effective and affective tones.
We know that I'm taking care of them and we are sharing the shift and it's what they want and mostly need.
But they are looking at me with just one eye, the other is closed or seems to be: it's easier to receive but harder to give, to be curious and brave, so what they absorb from every pore is used to strengthen the Self.
A special, not so at all, specific Self that is under the bell jar of the need to be me and show it to the world, because they are grown with the advertising of: you have to become someone.
To be me, to become someone is an excellent option for life and no one should demotivate young an elder to pursue the path to realization but they confuse autonomy with individualism so they close the second eye that is the one beyond me, it's us.
The capacity of actually feeling that one is differentiated from the other is the genuine path that allows to be related to the same others: the autonomy of the Self that is spontaneously addressed to live in relationships.
In this way quality of togetherness surpasses quantity and the need of is replaced by the desire of.
If I use, as I do with them, this inherited human physiology, designed for the binocular vision (neurological but especially relational) they recognize this spontaneous attitude but they can't use it for us, the group.
It's too long that it hasn't been taught to use the integration between the two eyes by family, school and society.
Curiosity and obliviousness are totally missing from the vocabulary of growth superseded by the charter of rights… of the Self.
There is a politically correct space for the other because no one wants a selfish world and I must say that they are firmly interested to understand and stay with people, also to give an helping hand and cure but they can allow themselves to the purpose only wearing the mask of the role, otherwise they feel naked and weak.
At this point I believe that who reads is starting to confuse who are "they": they could be at the beginning patients inside group psychotherapy but they are graduating students in mental health.
They are not guilty on the contrary they want to become experts of the human relationship as in Psychiatry and in Psychotherapy and for this reason I spend time and time writing and talking to the educational world that seems to be focused only to patients and their descriptions, diagnoses and intervention's protocols and not to trainees first.
The double opened eye is the one that sees the bi-directional arrow of the therapeutic relationship that is the expert and before him or her, the student.
They are the children of a culture in which there is no more the ability of discussion: they learn a model then apply it to the clinical case.
It's not enough because first they have to find an approach to the relationship inside educational programs that offers both eyes to them, interested to them before talking about patients.
I'm not referring to personal psychotherapy that is requested or suggested many times but to a continuous group experience to exercise the meaning of the relationship.
I care of them, I'm interested to their stories and feelings, I want to help them to restore their double eyes vision that is ours since birth that many times has been forced to use just the eye of me that is not enough to really help people in mental health issues.
The fact that psychopathology is increasing worldwide is known before Covid's infectious disease and its consequences and we can't bear anymore the story that there is a sick society growing up without a true introspection that explore what is happening inside the big world of mental health treatments.
Otherwise the same world that should take care of others par excellence, persists on facing reality with one eye closed.
Michele Battuello